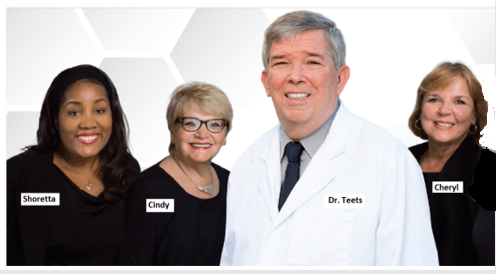 At Biloxi Family Dental Care, our team focuses on providing compassionate care and a positive dental experience. We do not double book patients so we can take our time and give you individual attention. We also provide patient education so you can make informed decisions about your dental health. We are well-versed in dental insurance and will go the extra mile to help you maximize your benefits. The faces may have changed over our 20+ years in practice but the qualities that make up our team — helpful, knowledgeable and caring — have not. If you ever have questions or need assistance, feel free to talk to us. We are always happy to help and look forward to serving you!
Cindy – Practice Administrator
Cindy joined Biloxi Family Dental Care in 2008. She usually works behind the scenes filing insurance claims, advocating for patients with their insurance companies and completing practice management duties. A teacher by training, Cindy uses her skills to educate patients about dental care and their insurance. She enjoys forming relationships with patients and seeing them realize their dental goals. In her free time, she enjoys cooking, reading, traveling and paper crafting.
Cheryl – Patient Coordinator
Cheryl rejoined our practice in February 2019, after a time away. She has been with us for over ten years. Communicating with the patients is the part of working here that she likes the best. Cheryl contributes to our success by scheduling patients, verifying insurance benefits, and answering patient calls and questions. She is married with three children and three grandchildren. Her hobbies include her caring for her pets, gardening, landscaping and spending time with family and friends.
Kaylan – Registered Dental Hygienist
Kaylan is the newest member of our team. She joined us in April 2021. She loves treating complex cases as well as our everyday folks. She strives to give her highest quality of work to every single patient.
She graduated with her Bachelor of Science in dental hygiene in 2020 from the University of Mississippi Medical Center. Kaylan is engaged, and she has one spoiled dog at home. Kaylan loves cars and games. Most of all, she loves spending quality time with family and friends.
Shoretta – Certified Dental Assistant
Shoretta joined the practice in February 2019. She enjoys every aspect of her job, especially seeing the patients leave with a smile. She contributes to our success by preparing for every procedure to the best of her ability and by assuring all patients that they are in the best care. Shoretta is married with three children and enjoys shopping, cooking, traveling and watching movies with her family.